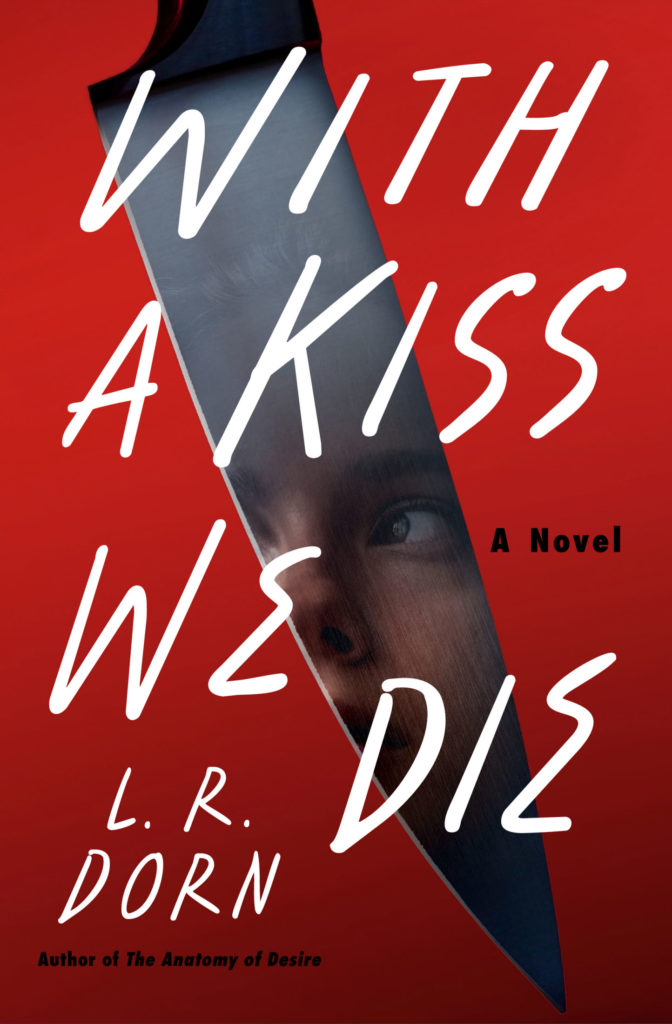 Add to Goodreads
With a Kiss We Die
Two college lovers suspected of a brutal double homicide enlist a popular podcasting crime journalist host to proclaim their innocence in this psychologically spellbinding and compulsively readable novel of love, lies, and murder.
I'm Ryanna Raines. And welcome to "The Raines Report."
Ryanna Raines is the host of a popular true-crime podcast. Her specialty is investigative journalism, her style is truth-seeking moxie, and with millions of listeners along for the ride, her star is rising. But when an intriguing message is left on her tip-line, the reporter is pulled into the most challenging case of her career.
The mangled bodies of a husband and wife have been discovered in their multi-million-dollar estate in Southern California. The prime suspects are their twenty-two-year-old son and his girlfriend, two college theater students who are now facing arrest and indictment. In a surprising move, they only want to speak with Ryanna, offering exclusive interviews in exchange for her help getting their side of the story told.
Instead of a badge or a weapon, Ryanna carries her voice recorder onto the battlefield of the high-profile murder investigation. Through a series of interviews, Ryanna examines her subjects from multiple angles and diverse points of view, breaking past the walls of "he said, she said" to pierce at a dark and horrible truth.
Written in the style of a true-crime podcast, With a Kiss We Die is a heart-racing mystery and thought-provoking tale about love and secrets that unfolds episode by episode as it hurtles towards an explosive conclusion. L. R. Dorn has crafted a suspenseful examination of our cultural obsession with true crime, the complicated moral obligations between journalists and their subjects, and the often-deadly line between performance and deceit.
Praise for
L.R. Dorn

and The Anatomy of Desire

"Centered on the world of social media influencers, [this] remarkable debut takes the form of a true crime docuseries… Riveting… With no witnesses to the murder, readers will breathlessly await the verdict."

Publishers Weekly
(starred review)

"A truly innovative, fantastic book. Emphatically recommended."

Josh Malerman
New York Times bestselling author of Bird Box

A Publishers Weekly Best Mystery/Thriller of 2021

Audie Award finalist for Multi-Voice Performance
FAQ about With a Kiss We Die
Over the last few years, we've listened to a lot of crime investigation podcasts, hosted by a new generation of audio journalists. Many of these podcasters stand independent from traditional news organizations, but share that timeless reporter's zeal to go forth, find the truth, and put it out into the world.
Our podcasting crime journalist, Ryanna Raines, was born out of these fresh voices bringing to the culture a new style of crime narrative. Creating The Raines Report and the team behind it seemed like a novelistically opportune way to explore the true crime phenomenon while utilizing it as a framework through which to tell a shocker of a
crime story.
The crime story we wanted to explore and dramatize had its roots in a real-life murder case. What happened inside the Virginia home of Derek and Nancy Haysom that spring night in 1985 may never be completely known.
What is known is that this affluent middle-aged couple died from a hyper-violent knife attack. Eventually their twenty-one-year-old daughter, Elizabeth, and her boyfriend, Jens Soering, were arrested, charged, and convicted of the murders.
Since first hearing of this baffling crime, by way of an investigative podcast, we couldn't get it out of our heads.
Yes, that's why we challenged ourselves to come up with a new kind of crime sleuth. We asked ourselves, "Who are today's most popular voices in crime detection and criminal characterization?" The lights went on for us at the same moment: "Sarah Koenig!" (host of Serial). The podcasting crime journalist felt fresh as a sleuthing profession.
Criminal, Canary, CounterClock (those are just the ones starting with C) have become the digital media equivalent of The Adventures of Sherlock Holmes. They are investigative podcast series with active Instagram pages and Twitter accounts, their hosts write bestselling books, give morning show interviews, and appear on panels at public events like the phenomenally popular CrimeCon.